Overview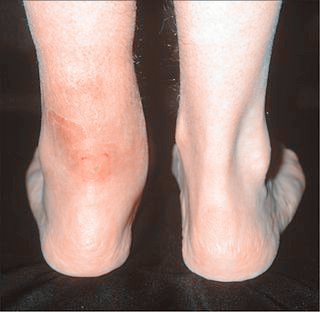 Typically an overuse injury, Achilles tendinitis affects the connective tissue between the calf and the heel. When you walk, run or otherwise use your leg to push your body upward, the Achilles tendon is engaged. Using the tendon frequently and with high intensity often results in tendinitis -- a swollen Achilles tendon that makes it difficult and sometimes painful to continue high-impact activities.
Causes
Like any muscle or tendon in the body, the older we get, the more likely we are to sustain an injury. So middle-aged men and women are most at risk, with a slightly higher risk factor attributed to males. Those who participate in more intense athletic activities like high impact sports (tennis, running, basketball) are most susceptible to the injury. Certain underlying medical conditions can also be a contributing factor. Diabetics are more at risk of suffering from Achilles Tendinitis, as are those who are not in great physical shape. Some antibiotics, particularly fluoroquinolones can make one more likely to suffer a strained Achilles Tendon.
Symptoms
People with Achilles tendinitis may experience pain during and after exercising. Running and jumping activities become painful and difficult. Symptoms include stiffness and pain in the back of the ankle when pushing off the ball of the foot. For patients with chronic tendinitis (longer than six weeks), x-rays may reveal calcification (hardening of the tissue) in the tendon. Chronic tendinitis can result in a breakdown of the tendon, or tendinosis, which weakens the tendon and may cause a rupture.
Diagnosis
The diagnosis is made via discussion with your doctor and physical examination. Typically, imaging studies are not needed to make the diagnosis. However, in some cases, an ultrasound is useful in looking for evidence of degenerative changes in the tendon and to rule out tendon rupture. An MRI can be used for similar purposes, as well. Your physician will determine whether or not further studies are necessary.
Nonsurgical Treatment
See your doctor or sports physiotherapist for further advice. You may be prescribed anti-inflammatory medicine and a rehabilitation programme. Sometimes, the ankle may be put into a walking boot or cast to immobilise the ankle in the short term. Gentle calf stretching is the first stage of rehabilitation. Don?t stretch to the point of pain. Strengthening the Achilles tendon is the second stage. Your doctor or sports physiotherapist will be able to advise you on exercises for this. Special exercises called eccentric calf raises, that contract the calf muscle as it is lengthening (during the lowering part of the movement), are the standard exercise used in the rehabilitation of Achilles tendon injuries. Sometimes a heel raise or orthotics may be useful. As symptoms resolve, resume normal weight-bearing activities gradually. Avoid running until all tenderness has gone. Swimming or cycling in low gear are good replacement activities.
Surgical Treatment
If several months of more-conservative treatments don't work or if the tendon has torn, your doctor may suggest surgery to repair your Achilles tendon.
Prevention
By properly training the body, an athlete can build the strength of their tendons and muscles. Following a workout and dieting plan, the body will be able to build muscle and strengthen most effectively. Additionally, doing the following can prevent tendinitis. Wearing appropriate shoes will give your foot the support it needs for proper movements of the foot and ankle. Improper movements will put additional stress on your body. Stretching before an athletic activity, Stretching primes the body for a taxing activity. Additionally, this will get your blood flowing and reduce the risk of pulling a muscle. Ask your doctor about orthotics, Custom orthotics can help get your foot into proper alignment. If the foot does not execute proper mechanics, the body will adjust which will cause pain and increase the chances of injury.