Posterior Calcaneal Spur Symtoms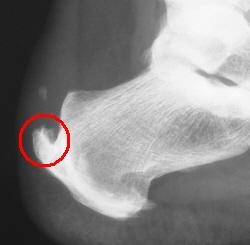 Overview
Heel spurs are abnormal bony growths that develop at the back of or under the heel. Inflammation around a spur, more so than the spur itself, can cause significant pain. Fortunately, symptoms can be eased with non-surgical treatments for the vast majority of people.
Causes
You are more likely to develop plantar fasciitis and heel spurs if you are Active. Sports that place excessive stress on the heel bone and attached tissue, especially if you have tight calf muscles or a stiff ankle from a previous ankle sprain, which limits ankle movement eg. running, ballet dancing and aerobics. Overweight. Carrying around extra weight increases the strain and stress on your plantar fascia. Pregnant. The weight gain and swelling associated with pregnancy can cause ligaments to become more relaxed, which can lead to mechanical problems and inflammation. On your feet. Having a job that requires a lot of walking or standing on hard surfaces ie factory workers, teachers and waitresses. Flat Feet or High Foot Arches. Changes in the arch of your foot changes the shock absorption ability and can stretch and strain the plantar fascia, which then has to absorb the additional force. Middle-Aged or Older. With ageing the arch of your foot may begin to sag - putting extra stress on the plantar fascia. Wearing shoes with poor support. Weak Foot Arch Muscles. Muscle fatigue allows your plantar fascia to overstress and cause injury. Arthritis. Some types of arthritis can cause inflammation in the tendons in the bottom of your foot, which may lead to plantar fasciitis. Diabetes. Although doctors don't know why, plantar fasciitis occurs more often in people with diabetes.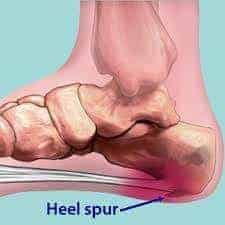 Symptoms
Heel spur and plantar fasciitis pain usually begins in the bottom of the heel, and frequently radiates into the arch. At times, however, the pain may be felt only in the arch. The pain is most intense when first standing, after any period of rest. Most people with this problem experience their greatest pain in the morning, with the first few steps after sleeping. After several minutes of walking, the pain usually becomes less intense and may disappear completely, only to return later with prolonged walking or standing. If a nerve is irritated due to the swollen plantar fascia, this pain may radiate into the ankle. In the early stages of Heel Spurs and Plantar Fasciitis, the pain will usually subside quickly with getting off of the foot and resting. As the disease progresses, it may take longer periods of time for the pain to subside.
Diagnosis
A Diagnosis of Heel Spur Syndrome is a very common reason for having heel pain. Heel pain may be due to other types of conditions such as tendonitis, Haglund's Deformity, Stress Fracture, Tarsal Tunnel Syndrome, or low back problems. A more common condition in children is Sever's Disease. The diagnosis is usually made with a combination of x-ray examination and symptoms.
Non Surgical Treatment
The key for the proper treatment of heel spurs is determining what is causing the excessive stretching of the plantar fascia. When the cause is over-pronation (flat feet), an orthotic with rear foot posting and longitudinal arch support is an effective device to reduce the over-pronation, and allow the condition to heal. Other common treatments include stretching exercises, losing weight, wearing shoes that have a cushioned heel that absorbs shock, and elevating the heel with the use of a heel cradle, heel cup, or orthotic. Heel cradles and heel cups provide extra comfort and cushion to the heel, and reduce the amount of shock and shear forces experienced from everyday activities.
Surgical Treatment
When chronic heel pain fails to respond to conservative treatment, surgical treatment may be necessary. Heel surgery can provide pain relief and restore mobility. The type of procedure used is based on examination and usually consists of releasing the excessive tightness of the plantar fascia, called a plantar fascia release. The procedure may also include removal of heel spurs.
Prevention
Walk around before you buy shoes. Before you purchase your shoes, do the following. Re-lace the shoes if you're trying on athletic shoes. Start at the farthest eyelets and apply even pressure to the laces as you come closer to the tongue of the shoe. Make sure that you can wiggle your toes freely inside of the shoe. Also, make sure that you have at enough space between your tallest toe and the end of the shoe. You should have room equal to about the width of your thumb in the tip of your shoe. Walk around to make sure that the shoe has a firm grip on your heel without sliding up and down. Walk or run a few steps to make sure your shoes are comfortable. Shoes that fit properly require no break-in period.
0 Comments